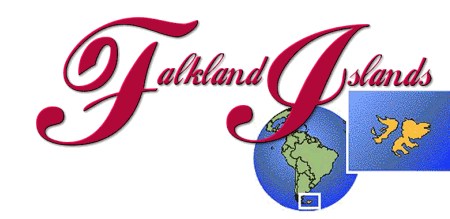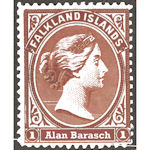 My name is Alan Barasch. I have been collecting the stamps of the Falkland Islands since about 1969 and exhibiting them since 1977. I am a life member of the American Philatelic Society, member of the Falkland Islands Philatelic Study Group, American Association of Philatelic Exhibitors, St. Helena, Tristan and Ascension Study Group, a life member of the Society of Israel Philatelists, American Topical Association, Royal Philatelic Society, London, and a number of local clubs. In my spare time, I write the websites for all the local stamp shows and clubs.
How I Started Collecting Falkland Islands

I was a freshman in college (U of Tennessee, Knoxville) and I was telling a friend about my collection. At the time it was a total of 5 volumes; including Israel, a scattering of recent US, and some foreign.
This "friend" looks at it in disgust and said, "real collectors specialize in something, they do not try to collect the world." I pulled my catalog off the shelf and opened it at random. It fell open to Falkland Islands. Over 30 years later I am still at it.

In 2012, I am redefining the exhibit even further. The new exhibit is should expand from one-frame of one penny stamps to 5 frames covering the entire QV period.

I have accumulated enough material to fill 6 frames but would rather tell a tight story. Showing 8 different postion pieces of a cheap item is not productive.

The Exhibit covers the years 1878 to 1902 or more appropriately, the issues of the Queen Victoria era.

The Scott's catalog numbers these issues 1 through 21 with several varieties. Stanley Gibbon's numbers them from 1 to 42 with considerably more varieties.

The Heijtz catalog, which I think is one of the most comprehensive, list numbers to 15 but goes into excruciating detail of the varieties in each value. There being about 18 color variations, these 2 kinds of bisects and constant varieties.


Watch WSP shows for this exhibit.
Highlights
My friends think I am trying to corner the market on 1891 Bisect covers

In addition to Falkland Islands, I collect:

Nyassa
Offices in Palestine
Corfu
British Empire 'War Tax' and Postage Dues
Computers on Stamps
Calligraphy on Stamps
Nova Scotia, New Brunswick, & Prince Edward Island
Buddha on Stamps
The descendants of Queen Victoria on Stamps

Here is a PDF of the presentation that I gave at Gladstone Philatelic Club in October 2015. It is over 8 megabytes.

'Dead' Countries

Need more information about the Falkland Islands?
Philatelic Links
Information about
Stamp Clubs in St. Louis & The Stamp Expo


APS # 2321-058303
Visit the American Philatelic Society Website at www.stamps.org